We are just two days away from the start of the biggest sporting event in Slovenia's history
19. 02. 2023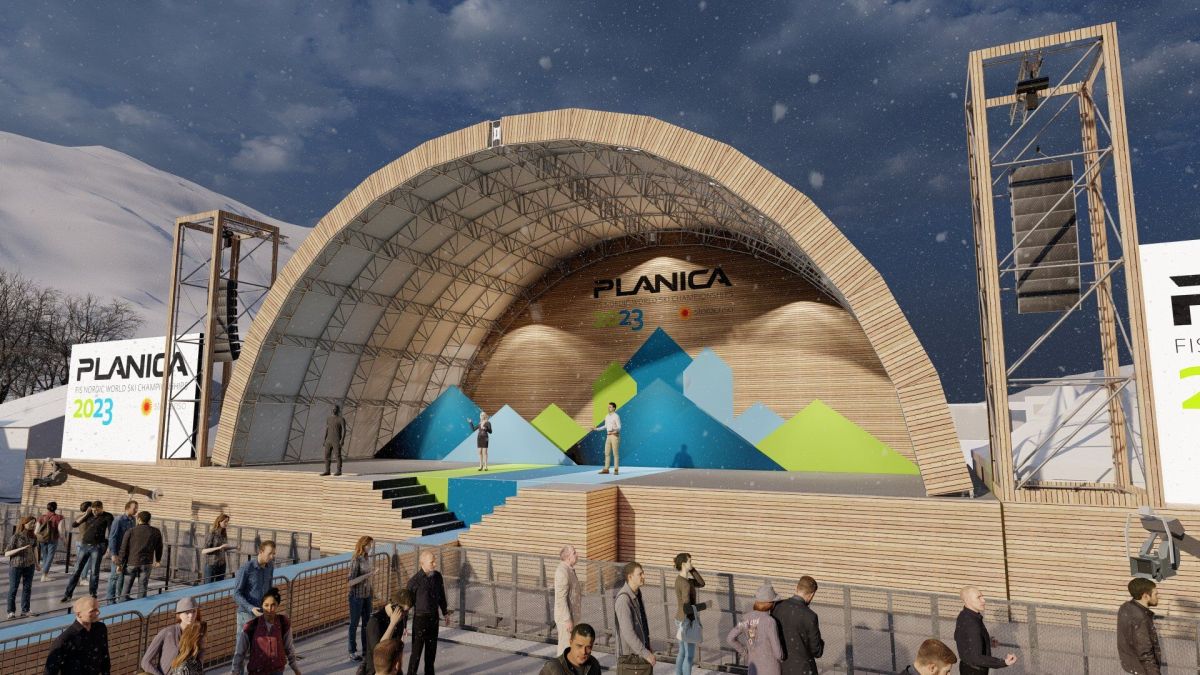 Laibach, Sasa Avsenik Ensemble and DJ UMEK - World-Famous Music Artists and Distinguished Guests to Appear at the Opening Ceremony for the FIS Nordic Ski World Championships Planica 2023  We are just two days away from the start of the biggest sporting event in Slovenia's history and everything is ready in Dolina pod Poncami for an unforgettable spectacle of winter sport.
Laibach, Saša Avsenik Ensemble (Slavko Avsenik und seine Original Oberkrainer) and DJ UMEK - World-Famous Music Artists and Distinguished Guests to Appear at the Opening Ceremony for the FIS Nordic Ski World Championships Planica 2023.
Kickstarting the festivities will be the opening ceremony on Tuesday 21st of February at 20.23 at the Medal Plaza in Kranjska Gora. The ceremony will feature the world-famous music group Laibach, the Saša Avsenik Ensamble (Slavko Avsenik und seine Original Oberkrainer), the renowned music producer and DJ, DJ UMEK and 130 other performers. Alongside them will be distinguished guests Johan Eliasch, President of the FIS International Ski and Snowboard Federation, Dr. Robert Golob, Prime Minister of the Republic of Slovenia and Enzo Smrekar, President of the Ski Association of Slovenia and OC Planica. The ceremony will be broadcast live on TVSLO 2.
The music group Laibach will perform an adaptation of the old Slovenian folk song 'Oj, Triglav, moj dom.' Triglav is the highest mountain in Slovenia, representing a symbol of both Slovenians and South Slavs, so the song is a fitting tribute to mark the historic occasion. The composition was adapted and modernised by producer and arranger duo Boris Benko and Primož Hladnik. The music group invited a list of esteemed musicians to produce the track including singer Severa Gjurin, frontman and singer of Siddharta, Tomi Meglič, zither player Irena Anžič, percussionist Petra Vidmar, members of the Slovenian Philharmonic Choir and the wind and trombone section of the RTV Slovenia Symphony Orchestra.
The poem 'Oj, Triglav, moj dom' was written in 1894 by the priest, poet and translator Matija Zemljič under the pseudonym 'Slavin'. A year later, Jakob Aljaž - also a priest and a great admirer of Slovenia's highest mountain - set the song to music.
"With responsibility and honour, we look forward to this year's grand opening of Planica. We will present a part of our culture and show how beautiful it is when different generations work together on stage," said Sašo Avsenik, grandson of Slavko Avsenik and son of Greg Avsenik, who has successfully performed with his ensemble in Europe and beyond. Today, the third generation of the Avsenik family continues their musical journey.
He continues, "we have chosen a song from Bohinj where you will be able to hear our melodies in a classical guise. This will be followed by the waltz 'Slovenija od kod lepote tvoje,' to show the pride that Slovenian's feel for our beautiful country. We cannot pass by the most famous instrumental composition of the last century -Na Golici. Former President of the Republic of Slovenia, Borut Pahor, said that this composition is like 'a button to happiness'. And for the finale we have chosen "Planica, Planica". My grandfather Slavko was a ski jumper in the then national team before his musical career. Because of a fall, he changed his skis for an accordion. Later, he dedicated the above-mentioned song to ski jumping and to Planica - a song to which all visitors to Planica cherish feelings and memories. Hail Planica 2023!!!," promises Saša Avsenik. They will be joined on stage by the choir of the Bučar Music School.
To the musical rhythms of DJ UMEK, we will welcome the national flag-bearers of all 65 participating national teams. The musical performers will be joined on stage by dancers from the Emona folklore group, European and world hip hop champions from the Bolero dance school and dancers from the ballet ensemble of the SNG Opera and Ballet Ljubljana, all under the direction of Miha Krušič.
The opening ceremony was scripted and directed by Miha Krušič. You can watch the live broadcast from 20:00 on the second channel of Televizija Slovenija. The ceremony will be hosted by Igor E. Bergant and Bernarda Žarn.
ABOUT THE SAŠA AVSENIK ENSEMBLE (Slavko Avsenik und seine Original Oberkrainer)
Brothers Slavko and Vilko invented a new musical style and sound when they began in 1953. The Avsenik Brothers Ensemble has since become a world-famous and popular music brand. Today, the music is recognised as connective, positive, and can be concert or dance. The sound itself, from the very first bars, connects us with Slovenia and the whole Alpine region. This year, the musical style created by Slavko and Vilko Avsenik celebrates its 70th anniversary.
ABOUT LAIBACH
Laibach is Slovenia's most internationally renowned music group, which, in addition to music, expresses itself through painting, video and other artistic practices. The group was founded on 1 June 1980 in Trbovlje. Its musical expression combines various genres, from a more experimental industrial sound to symphonic works and electronic music. They are the founders of the so-called retro-avant-garde artistic movement, which draws its inspiration from past works of art and music and reworks them into contemporary sound form and content.
Laibach is known for its provocative multi-media performances and tours. They were the first Western rock band to perform successfully in the hermetically sealed country of North Korea, and the media reaction to this concert put the band on the cover of the New York Times. Since its formation in 1980, Laibach has performed more than 1100 concerts worldwide and sold more than 2 million records. The famous Bavarian radio station Zündfunk/Bayerischer Rundfunk has put them on the map of the most important bands and artists in pop music history, and the international selection of the world's leading music critics has named their album Opus Dei one of the 1,000 most important albums of all time. The band has recorded and released more than thirty albums, has been the subject of films, theses and doctoral dissertations, and a book on Laibach, "Interrogation Machine", written by Dr Alexei Monroe, has been published by the renowned MIT Press in Boston (Massachusetts Institute of Technology). The book has also been published in Slovenian, German and French translations. Laibach's work has influenced many other important bands around the world, including, fatally, Germany's leading musical attraction Rammstein. The band's parent label is the famous Mute Records in London, which has brought together some of the world's most prominent musical names, such as Depeche Mode, Nick Cave, Goldfrap, Moby, Diamanda Gallas, etc., under its roof.
ABOUT DJ UMEK
Meet UMEK, a techno legend from Slovenia. UMEK is personally responsible for kickstarting the electronic music scene in his home country by first organizing illegal raves and then becoming one of Slovenia's number one music ambassador for the whole world. And he does fly! Around 100 times per year, visiting almost every continent each year. His gig diary ranges from dark underground clubs in Berlin to massive techno stages on world's most renowned festivals. Apart from making his name in the DJ booth, he's also a tireless producer. He mostly releases on his own imprint 1605, and most of his tracks end up on the very top of Beatport's charts. After more than 25 years as a professional musician, he decided to use his experience and skills in the entrepreneurial world. Together with his managers, he founded a music-tech startup Viberate (www.viberate.com), where they are building the world's greatest music platform. This year he celebrates 30 years of music, which will be marked with a special event.
Back