Start of countdown to the FIS Nordic World Ski Championships Planica 2023!
23. 09. 2021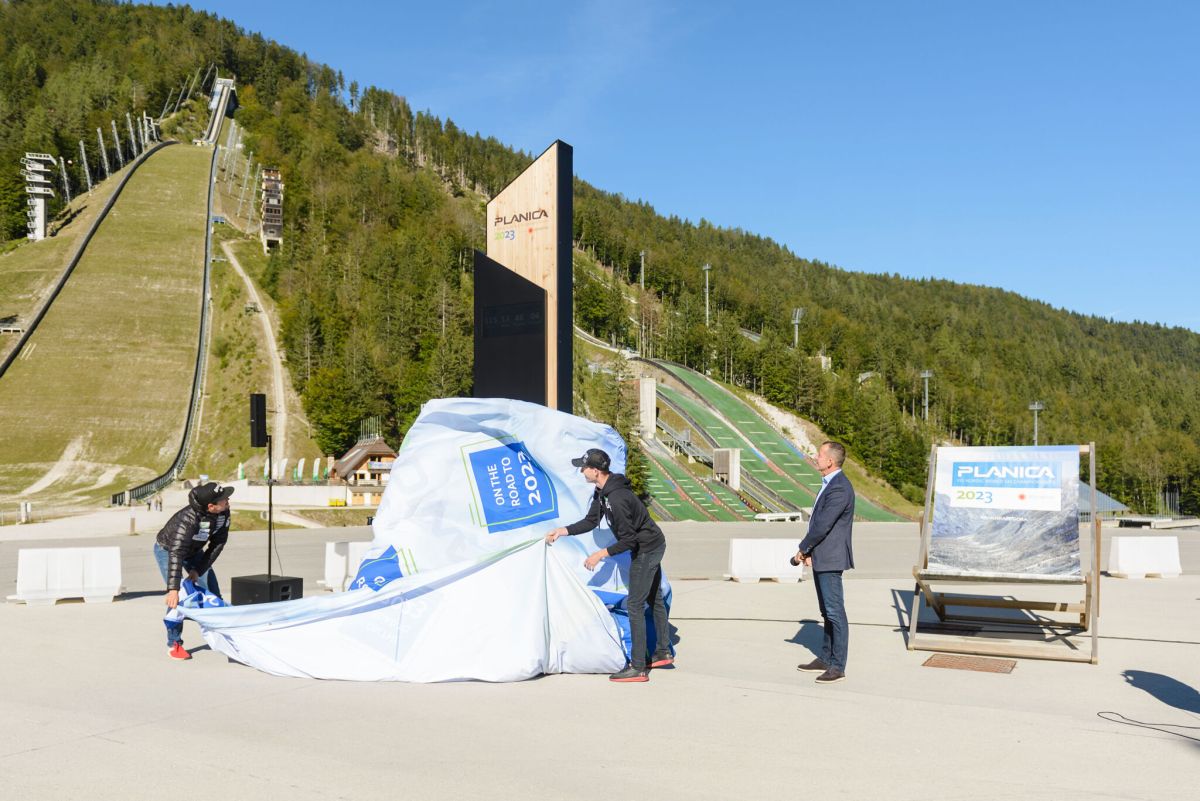 Planica and Kranjska Gora started counting down the days until the largest event in the history of Slovenia – the FIS Nordic World Ski Championships. Countdown timers were revealed on national holiday, Day of Slovenian sports. With this a symbolic road to year 2023 started on September 23rd.
Days, hours, minutes and seconds will be counted down in two locations, in the Nordic Center Planica and on the square in front of the church in Kranjska Gora. The timers will remind every passer-by that Slovenia is ready for a great challenge and also an opportunity to prove itself as the host of an exceptional event.
The Upper Sava Valley has already wrapped itself in the colors of Planica 2023. Mighty flags, posters and banners announcing this unique event for Planica, Kranjska Gora and the whole of Slovenia can be seen everywhere.
The timer in Planica was solemnly unveiled by the President of the Organizing Committee of Planica 2023, Mr. Enzo Smrekar, together with ski jumper Žiga Jelar and Cross-Country skier Miha Šimenc.
"Ski Association of Slovenia is entering a development period. The biggest event in the history of the Republic of Slovenia is approaching – the FIS Nordic World Ski Championship Planica 2023. This day marks the official unveiling of the countdown timer, which will show us at any time how close we are to the opening ceremony of this prestigious sporting spectacle. I am confident that we will be able to prepare for the Championships in the best possible light, despite the current situation in the world. I would like to thank the director of Nordic Center Planica, dr. Franc Petek for good cooperation, the Municipality of Kranjska Gora and its mayor Mr. Janez Hrovat, for hospitality in this beautiful valley, and all the others who will make the Championships unforgettable," said Mr. Smrekar at the official unveiling.
Back