Even Champions need a day off
27. 02. 2023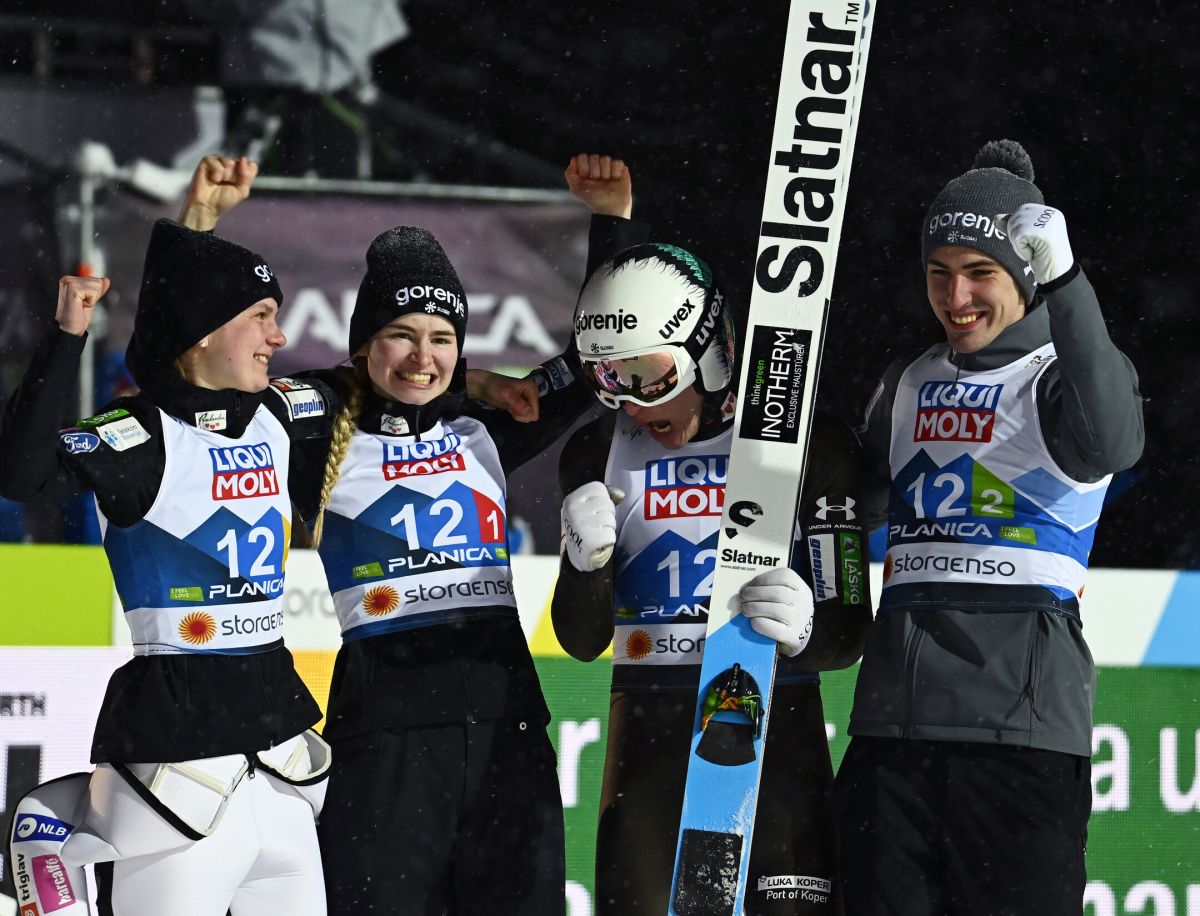 Monday is reserved for a well-deserved rest for the athletes, so there will be no competitions on this day. For all the die hard fans there will still be something to see, as Women Cross-country training 10km will take place in Planica.
The action resumes on Tuesday 28th February, when there will be more training sessions in Cross-Country and Nordic Combined for women and Men and we will crown the women's cross country 10k champion. Also on the days schedule is training and qualification fo Women Ski Jumpers on Large Hill (HS138).
Germany defend their mixed team title, Slovenia gets a medal
The German team dominated the competition in the mixed team ski jumping event on the normal hill. This was their fifth consecutive gold medal at the FIS Nordic Ski World Championships. The Norwegians won the silver medal, whilst Slovenia won the bronze - the first medal at their home championship. The Norwegians and the host team, the Slovenians, put up a decent fight, but after all the jumps were completed, no one could match Selina Freitag, Karl Geiger, Katharina Althaus and Andreas Wellinger.
Cross country team events thrill crowds in Planica
The women's team sprint in cross-country ended with the victory of the Swedish duo for the third consecutive FIS Nordic Ski World Championships. Jonna Sundling, who had already won the title in Oberstdorf alongside Maja Dahlqvist, won her second gold medal in Planica with her new team-mate Emma Ribom. Johannes Hoesflot Klaebo won his third medal at the FIS Nordic Ski World Championships in Planica 2023. With his second gold medal, he confirmed his status as an undisputed champion in the team sprint competition, winning his third consecutive world title with three different teammates, in Planica it was Paal Goldberg. In the Nordic combined mixed team competition in ski jumping on the normal hill and a 2x2.5km and 2x5km cross-country skiing race, Jens Luraas Oftebro, Ida Marie Hagen, Gyda Westvold Hansen and Jarl Magnus Riiber were unbeatable.
You may not know...
There are 2000 Athletes and Accompanying personnel at the 43rd FIS Ski World Championships Planica 2023
1975 accredited media persons for around the world are working in Planica.
Accompanying Programme
28.02. | 17:00 | Media Centre, Planica
Sport infrastructure and capacity to organise major sports events
Guests:
Matjaž Han, Minister of the Economy, Tourism and Sport
Metod Ropret, Vice President of the Slovenian Olympic Committee and President of
the Slovenian Volleyball Federation
Dr. Franci Petek, Doctor of Geographical Sciences, former elite ski jumper, participant in the 1992 and 1994 Olympic Games
01.03. | 17:00 | Media Centre, Planica
Presentation of the I feel Slovenia brand
Guests:
Petra Bezjak Cirman, Acting Director of the Government Communications Office,
custodian of the I feel Slovenia brand
Rok Capl, Acting Director of SPIRIT Slovenia, the public agency for the promotion of
entrepreneurship, internationalisation, foreign investment and technology
Maša Puklavec, Head of Content Digital Marketing at the Slovenian Tourist Board
Entertainment & Ceremonies
28.02. | 12:00 | Fun Arena, Planica
• Animation & DJ
| 20:00 | Medal Plaza, Kranjska Gora
• Concert Smooth Band
01.03. | 12:00 | Fun Arena zabave, Planica
• Animation & Smooth Band
| 20:23 | Medal Plaza, Kranjska Gora
• Medal Ceremony
Cross-Country Women 10 km Free
Cross-Country Men 15 km Free
Nordic Combined Men HS138 / 4 x 5 km Team
• 45 min Recess
• Medal Ceremony
Ski Jumping Men HS102
Ski Jumping MIX Team HS102
Ski Jumping Women HS138
• Concert King Foo
Back